Job Description
"Delivering innovative digital magazine content on every device in every country."
Zinio brings innovation and inspiration to the world of magazine publishers and consumers by delivering the ultimate digital reading experience on any device. As a pioneer Zinio operates online web newsstands and award-winning iOS and Android apps, providing access to digital magazines & articles in more than 30 languages, which can be read online and offline on any platform.
Zinio Pro converts print magazines to digital content through a Software as a service (SaaS) platform that transforms PDF to other formats such as XML, ePub or ANF and distributes it to different platforms such as Amazon Kindle, Apple News or Zinio Pro's white label publisher web and mobile apps.
The company has delivered 750M digital magazine editions across more than 8,5k titles from 1.3k publishers in 200 countries to over 10M customers.
We are looking for a Senior DevOps Engineer to help us build, improve, and scale up our hosted infrastructure, ensuring service availability and service levels expected of a world-class IT company. We're an ambitious bunch and need someone experienced in large-scale web application deployments. Configuration management and security should be top-of-mind and rolling out globally redundant, auto-scaling environments should excite you. If you are up to the challenge of solving real-world problems for big-name clients in an exciting startup environment, we've got a great opportunity for you.
What you'll be doing:
Reporting directly to the Infrastructure Lead.
Managing all infrastructure deployments, both internal and cloud based.
Working with other systems and database administrators in the systems group to maintain the service levels of all systems.
Managing servers, applications, and all internal software used by the company.
Defining configuration management and deployment procedures, including post-release monitoring and risk analysis.
Coordinating, planning and deployment of major software releases, feature enhancements and bug fixes with various development groups.
Recovering applications in the event of a hardware or software failure and working on an on-call basis with other system administrators.
Attending to system alerts on an on-call basis.
Working with the systems administration team to complete capacity planning and scalability tests.
Your required experience:
Minimum of 4+ years relevant work experience
Strong Linux / Networking skills
Experience with cloud services (AWS)
Experience with AWS ECS (K8s is a plus)
Experience with IaC (terraform)
Prior experience with configuration management (Ansible)
Experience with PHP or Python or any high-level programming language is a plus.
You'll fit right in if you:
Are enthusiastic and self-motivated with good decision-making skills.
Speak up! We're very open here, and we want to hear your opinions and ideas about how we can extend our products and do things better.
Collaborate and work effectively with cross-functional teams in a fast-paced agile environment.
Why you'll love working with us:
We are a technology company, and we invest in technology!
We lead our sector of activity and are always facing challenging new projects.
We have a highly skilled team so you can learn from your colleagues: knowledge sharing is strongly encouraged and lived. We do team tech meetups every now and then to investigate promising technologies.
Training budget for those books and courses that will benefit Zinio and you.
Agile/ Scrum way of working and philosophy.
You will be part of a multicultural team, working with different countries and time zones.
We have a fun, friendly & international work environment.
Flexible working hours and availability of work from home.
We offer great benefits including:
Open space office in Barcelona with awesome views.
Team-building activities.
Free digital magazines.
Fresh fruit, tea & good (unlimited) coffee.
We offer a competitive salary package and a flexible salary plan including:
Health Insurance Program.
Meal, Public Transportation Card & Nursery.
Training.
If you are interested, please apply sending your CV in English with all data relevant to the position.
By applying for this position, you accept the Candidate Privacy Policy.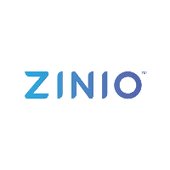 Saa S

New York, NY, USA

200-500

2001
.
Other devops jobs that might interest you...