Filled
This offer is not available anymore
Job Description
Devo, the cloud-native logging and security analytics company, empowers security and operations teams to maximize the value of all their data. Only the Devo platform delivers the powerful combination of real-time visibility, high-performance analytics, scalability, multitenancy, and low TCO crucial for monitoring and securing business operations as enterprises accelerate their shift to the cloud. Headquartered in Cambridge, Mass., Devo is backed by Insight Partners, Georgian, and Bessemer Venture Partners. Learn more at
www.devo.com
.
As a DevOps Engineer your mission will be to collaborate in the end-to-end DevOps projects, contributing with a full view over architecture, design, deployment of the solutions, automation and support.
Responsibilities
Build and maintain Configuration Management tools and integrate them with our CI Pipelines.
Software packaging and deployment.
Design and deployment of Architecture elements.
Continuous monitoring.
Administration of Code management and code quality tools.
Requirements
Bachelor's Degree in Computer Science or related field or equivalent experience
Expertise with object-oriented programming language (Java, Nodejs, Gradle)
Knowledge of CI/CD practices and tools: Jenkins, Gitlab pipelines
Experience in Cloud ecosystems preferably on AWS
Configuration Management Tools and Infrastructure as a code: Ansible, Terraform, Cloudformation
Knowledge of Source Code Control Systems and Workflows: ​Git and gitflow
Knowledge of agile methodologies
Experience with Unix environments
Experience with Containers and Container orchestration: Docker, Kubernetes, Helm, Docker Swarm
Devo does not discriminate on the basis of race, color, national origin, religion, gender, age, veteran status, sexual orientation, marital status or disability (in compliance with the Americans with Disabilities Act) with respect to employment opportunities.
"Devo is committed to creating a welcoming culture that is not only grounded in teamwork and customer success but is fair and equitable for everyone." Marc van Zadelhoff, CEO
At Devo, diversity and inclusion means more than treating employees well and making them feel welcome. It is a commitment to hiring people who bring different insights because of their unique perspectives, ways of thinking, and prior experiences.
We intend to continue hiring great people and protecting our culture so everyone can be themselves and speak their minds. That way Devo will always be a place filled with purpose, energy, hard work, thoughtfulness, and respect.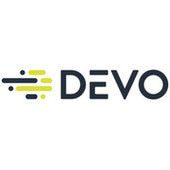 Big Data

Cambridge, MA, USA

200-500

2011
.
Other devops jobs that might interest you...