Job Description
Devo, the cloud-native logging and security analytics company, empowers security and operations teams to maximize the value of all their data. Only the Devo platform delivers the powerful combination of real-time visibility, high-performance analytics, scalability, multitenancy, and low TCO crucial for monitoring and securing business operations as enterprises accelerate their shift to the cloud. Headquartered in Cambridge, Mass., Devo is backed by Insight Partners, Georgian, and Bessemer Venture Partners. Learn more at
www.devo.com
.
The Site Reliability Engineer Shares Knowledge by acting as the internal subject matter expert for all things related to Devo's architecture. They act as a Continuous Learner by continuously looking into new technologies and finding ways of implementing them to push for improvement.
They will additionally lead the way in improvement of our Service Level Objectives, and their implementation, to establish solid KPIs on which we can factually measure the rate of improvement and monitor the stability of the platform. They Make & Keep Commitments by using their error budget in the most efficient manner possible and ensuring that any lessons learned fuel the continuous improvement of our tools and platform.
Responsibilities
Support and supervise the Delivery team in the deployment of our solution with clients, acting as advisors to ensure that our platform's needs are considered and incorporated into the action plan.
Collaborate with internal teams by resolving doubts, offering advice and spreading knowledge of our architecture, to ensure all new features and modifications to our platform maintain architectural integrity.
Work hand in hand with; other CloudOps teams, Pre-Sales, Engineering, Product Management, Customer Success and Professional Services, in the definition of our SLOs.
Keep learning new technologies to discover potentially promising tools aimed at improving the efficiency and reliability of our solutions.
Work with the Network Operations Team to improve the design and processes around Monitorization of our solutions.
Requirements
Bachelor's degree, or equivalent work experience, relevant to Computer Science.
Strong Linux user & Sysadmin knowledge.
Solid understanding of networks.
Strong communication skills and capacity to articulate complex problems across functions.
Solid understanding of Cloud Computing.
Minimum of 3 years of programming/scripting in; Python, Bash and/or Perl.
Experience using AWS, Azure or Google Cloud
Experience with container technologies
Experience with Git.
Experience with Ansible, Puppet or Chef
Devo does not discriminate on the basis of race, color, national origin, religion, gender, age, veteran status, sexual orientation, marital status or disability (in compliance with the Americans with Disabilities Act) with respect to employment opportunities.
"Devo is committed to creating a welcoming culture that is not only grounded in teamwork and customer success but is fair and equitable for everyone." Marc van Zadelhoff, CEO
At Devo, diversity and inclusion means more than treating employees well and making them feel welcome. It is a commitment to hiring people who bring different insights because of their unique perspectives, ways of thinking, and prior experiences.
We intend to continue hiring great people and protecting our culture so everyone can be themselves and speak their minds. That way Devo will always be a place filled with purpose, energy, hard work, thoughtfulness, and respect.
To All Agencies:
Please, no phone calls or emails to any employee of Devo outside of the Talent Acquisition team. Devo's policy is to only accept resumes from agencies via the Devo Agency Portal. Agencies must have a valid fee agreement in place and they must have been assigned the specific requisition to which they submit resumes, by the Talent Acquisition team. Any resume submitted outside of this process will be deemed the sole property of Devo and in the event a candidate is submitted outside of this policy is hired, no fee or payment of any kind will be paid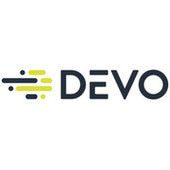 Big Data

Cambridge, MA, USA

200-500

2011
.
Other devops jobs that might interest you...